Ms. Hahn started acting in Ojai and now lives in Westlake Village where she attends Oaks Christian School.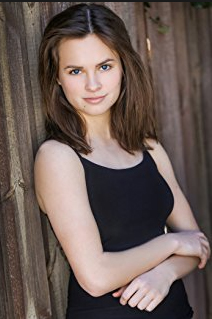 Actress Emily Hahn's latest movie, Beautifully Broken, will debut at the Ojai Film Festival on Friday November 10. A former resident of Ojai who now lives in Westlake Village, Ms. Hahn has a long list of acting and voice over credits to her name. Beautifully Broken is a feature-length film and a break through performance for the seventeen-year-old actress.
There's nothing like a hometown girl made good. Emily Hahn first graced the Ojai Art Center stage in 2007 at age six. Over the next two years, she honed her skills under the guidance of Gai Jones and Traci Williams. During an afternoon performance of The Music Man in 2009 manager Jeannine Cosden approached Emily's parents about advancing her professional career. Emily's first audition landed her the part of Bonnie in Toy Story 3. She has since recreated Bonnie in six more Toy Story films, along with Camp Cool Kids, Beautifully Broken, and coming in 2018 as Madi Stein in One Nation Under God.
"I'm excited to premiere Beautifully Broken in Ojai," said Emily Hahn. "The Art Center Theater will always have a special place in my heart."
In the true story Beautifully Broken, Emily stars as Andrea Hartley. The film follows Andrea and the Hartley family from Tennessee where they befriend a family that escaped the Rwandan genocide and became neighbors. The Harley family supported another family in Rwanda through Compassion International, an aid organization. This became a driving force in Andrea's story.
Randy Hartley, the real father in the story and a driving force behind the film said, "The role of Andrea was a challenge in different ways. First, Emily was asked to play the role of Andrea from about age 12 to age 16. That is quite an age span, but Emily did a fantastic job of adjusting her character to fit the role. Second, there were some difficult and very emotional scenes for the character, dealing with sensitive real life issues. Emily handled the scenes in such a professional and mature manner, really capturing the essence of Andrea. As her 'movie dad', I was very proud of the way she handled her role."
The movie is currently scheduled for Spring 2018 release and is looking for additional distribution.
The world premiere of the film takes place Friday, November 10 at the Ojai Art Center Theater at 7 pm, followed by a Q&A with cast members, then a casual reception in the gallery. Get your tickets soon!