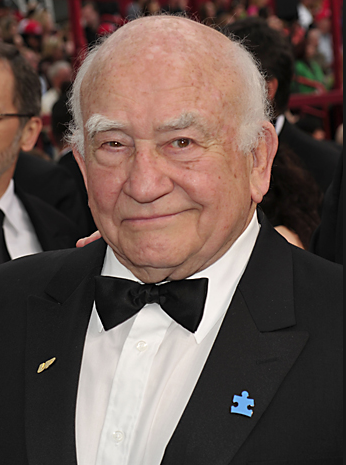 Versatile, committed, eloquent and talented are all adjectives that describe actor/activist and award-winning actor Ed Asner. The former president of the Screen Actors Guild and 60-year entertainment veteran starred as Carl Fredricksen in Pixar's Oscar-winning Best Picture Up! Asner has made dozens of motion pictures including They Call Me Mister Tibbs!, JFK and the box office hit, Elf with Will Farrell and James Caan.
Asner starred opposite Joseph Fiennes and Tom Cavanagh in the Disney feature The Games Maker, and Joe's War with Armand Assante, the animated feature The Nutcracker Sweet, and Love Meet Up opposite Amanda Markowitz. The latter won Best Independent Film of the Year from The Hollywood Reel Independent Film Festival.
The talented actor just shot the film Waiting in the Wings: The Musical written by Arie Gonzales and Jeffrey A. Johns, a short film called Closer written by Seraphine Nova and Mark Glass, and is set to shoot the feature The Instigator written by Tom Porter and Maggie Grant in Georgia early next year.
Asner starred in 2017's In Vino by director Leonardo Foti, a comedic thriller with Sean Young and Marina Benedict. The movie will screen at the Ojai Film Festival's tribute to Ed Asner, followed by a Q&A and reception. Asner is best known for his comedic and dramatic talent as the gruff but softhearted journalist Lou Grant, the role he originated on the landmark TV news room comedy, The Mary Tyler Moore Show and continued in the newspaper set drama Lou Grant which earned him five Emmys and three Golden Globe Awards.
In March 2002, he was honored by the Screen Actors Guild with the prestigious Life Achievement Award for career achievement and humanitarian accomplishment, presented annually to an actor who fosters the highest ideals of the profession.
Asner's latest film In Vino will screen on Saturday, November 4 followed by a Q&A with Asner moderated by publisher Bret Bradigan. Held at the Ojai Art Center, the event ends with a reception in the Gallery.
Save
Save